As we conclude celebrating volunteering across the UK's designated Volunteers' Week, from the 1st to 7th June, we are reminded that we can all play an important role by giving of our time, skills and energy, freely towards advancing a worthy cause, making a significant impact on people's lives and or, supporting an event.
However, it is more than that.  Yes, it is all the above, but it is also the impact volunteering can have on us individually, those around us, those in our communities and those in our workplaces – it is part of our social fabric!
At a time when demand for access to mental health services is higher than ever before and an ever-growing emphasis on 'looking after your own wellbeing' – amongst many societal challenges – volunteering should be seen as a possible means by which we can improve our own mental health and wellbeing.  If you like, volunteering could be seen as an act of self-care.
As we await the publication of the 'Time Well Spent Report 2023' later in June, some key findings have been released.  Notably, the positive impact volunteering has on our lives.  75% of people surveyed, agreed that volunteering had a positive impact on their mental health and wellbeing (Time Well Spent, 2023).  We know that volunteering allows us to connect with others, regain social roles and value, whilst widening our community links.  It empowers us to share our skills and knowledge, to build meaningful and lasting relationships – improving our self-esteem and wellbeing.
Now, more than ever, it could be argued that volunteering has become more accessible to all of us.  Organisations had to quickly adapt and evolve their volunteering opportunities in response to the recent Covid-19 pandemic to ensure they could continue to make change happen.  Many new roles were created and have sustained since.  Organisations offer a menu of options to volunteer through a combination of; formal, informal, mutual aid, digital and corporate opportunities.  They are more flexible and inclusive – a positive outcome!
Across Inspire, we have seen an increase in people wanting to volunteer in what we call 'one-off' or 'episodic' opportunities, alongside many businesses reaching out to enquire about suitable opportunities for their staff to get involved in – Corporate Volunteering.  We have welcomed several businesses to local Inspire services in recent months, assisting Team Inspire with gardening tidy ups, painting and supporting creative workshops.  It is fantastic to see the difference they have made to those we work with but equally to hear the outcomes it has achieved for them upon returning to their workplaces.  For example, improved team cohesion, better communication and understanding, along with a sense of purpose that the work they do can make a positive impact.
If you would like to give back to your local community or perhaps volunteering might form a part of improving your own mental health and wellbeing, then we would encourage you to get involved.  There are several ways to find a suitable opportunity.  We recommend heading to Be Collective where you can search for a range of individual roles and organisations.  Alternatively, Inspire's Volunteer Coordinator would be delighted to hear from you to discuss how we can support your team to get involved at a local Inspire service; volunteering@inspirewellbeing.org.
Pictured at Inspire's Supported Housing Service in North Belfast are; staff from A&L Goodbody alongside Team Inspire and residents from the service.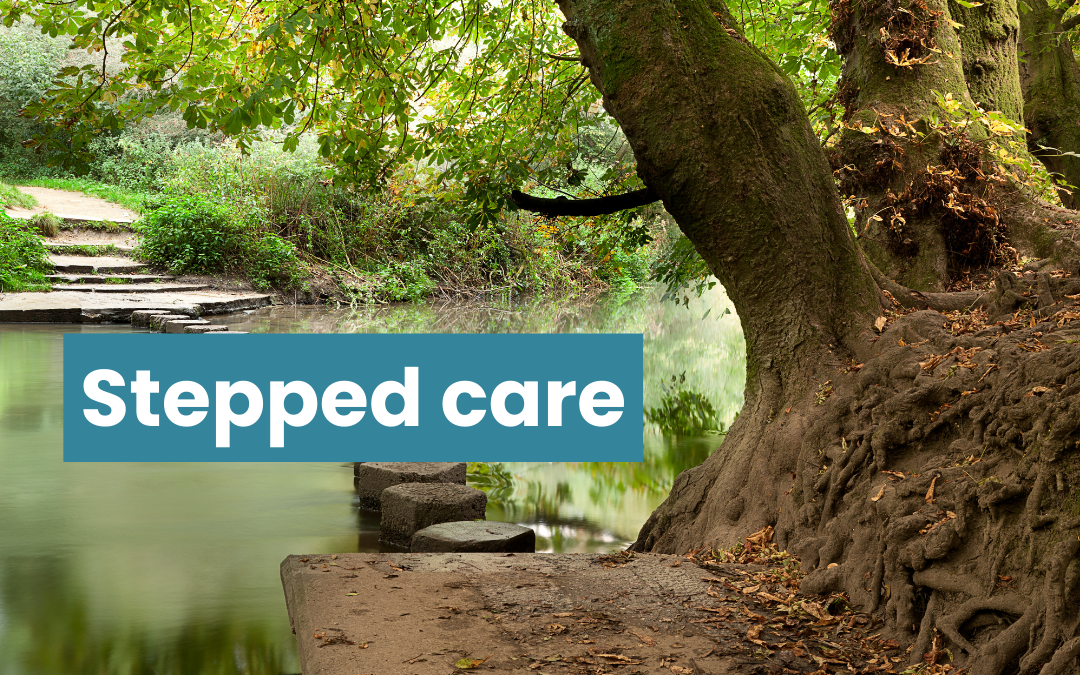 The stepped care model is a fundamental part of Inspire's workplace offering. So, what is it and why is it so important?